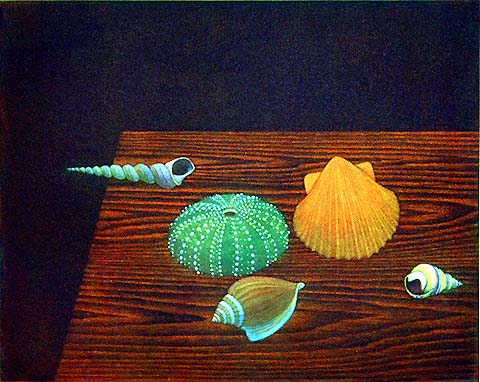 Een klein overzicht van de werken van Joop Vegter. klik hier
A small survey of the mezzoprints made by Joop Vegter. sign here
Joop Vegter, geboren op 9 november 1931 en overleden op 8 september 2017, is Nederlands belangrijkste en internationaal één van de bekendste mezzotint schilders.
Born at 9th of November 1931 Joop Vegter is Hollands foremost and internationally one of the best known mezzotint artists. Joop Vegter passed away at 8th of September 2017.

Joop Vegter begon zijn carière als leraar schilderkunst in 1963.
Joop Vegter started his career as a teacher of art in 1963.

In 1968, toen hij leraar werd aan de Academie voor Beeldende Vorming in Amersfoort, kreeg hij de gelegenheid om een grafischekunstafdeling op te zetten.
In 1968, when he assumed a teaching post at the Academie voor Beeldende Vorming in Amersfoort, he was given the assignment of setting up a graphic arts department.

Joop Vegter's doel was zijn leerlingen alle grafische technieken te leren, inclusief mezzotint - een techniek die hijzelf nog niet geheel beheerste.
Joop Vegter's goal was to teach his students all graphic techniques, including mezzotint – a technique was he was not yet familiar himself. 
Hij werd echter snel gefascineerd door de techniek en begon er een meester in te worden.
However, he soon became fascinated by the technique and went on to become a master at it.
Joop heeft in 1998, met inleidingen door Hanneke Adriaans en Elena Kornetchuk en technische uitleg door Joop, het boek "The mezzotint  Joop Vegter" uitgegeven.
Joop published in 1998, with introductions by Hanneke Adriaans and Elena Kornetchuk and technical explanation by Joop, the book "The mezzotint Joop Vegter".
ISBN 90 6216 274 6

Deze website wordt gesponsord door Paul Schütz, www.schuetz.nl
This website is sponsered by Paul Schütz, www.schuetz.nl  
© Paul Schütz